Before eating food at home or in public spaces, wash your hands with soap and water. It only takes 20 seconds and removes the germs from surfaces or objects you've touched
https://go.usa.gov/xV9TPexternal
icon #KeepHandsClean

Weekly HUSD COVID Update 11/18/20: COVID Data: Most up to date San Bernardino County COVID data is as follows: Adjusted new cases per 100,000 residents: 24.41* Overall testing positivity: 10.41%* HPI testing positivity aka "Health Equity Metric": 12.62% * *Note: Most recent data as of 11/9/20 Source: San Bernardino County Department of Public Health Current San Bernardino County tier assignment: 27.0 adjusted new cases per 100,000** 10.5% Overall positivity** 9.3% Health equity metric positivity** Tier = Purple **Note: 7-day average of the week ending on 11/10/20. Source: Ca Safer Economy Needed for next tier (Red) assignment: 2 consecutive week averages of 7 or fewer adjusted new San Bernardino County cases per 100,000 residents, 8% or lower overall positivity rate AND 8% or lower Ca Health Equity Metric positivity. Source: Ca Safer Economy Free COVID Testing: Community COVID-19 testing sites are being held throughout San Bernardino County. Samples will be collected using a swab in the nostril or in the mouth. These samples are then sent to a lab to test for the virus that causes COVID-19 (SARS‑CoV‑2 virus). There are 3 commonly used testing options: Option #1: San Bernardino County Public Health Testing Facilities: Click the link to make a free testing appointment:
https://sb.fulgentgenetics.com/appointment/screen/landing
You can easily make an appointment on your computer or phone! Walk-ins are also welcome! You do NOT need to have symptoms to test! You get texted/emailed the results in under 48 hours! Nearby locations: (Note: Click Here for exhaustive San Bernardino County list) Percy Bakker Center 9333 E Ave., Hesperia Monday – Friday from 9:30 a.m. – 5 p.m. Victor Valley College 71 Mojave Fish Hatchery Rd., Victorville Monday – Friday from 9:30 a.m. – 5 p.m. Every Saturday through November 21 from 9:30 a.m. – 5 p.m. Option #2: CVS Testing Facilities: You can easily make an appointment on your computer or phone! No walk-ins! Generally, you MUST have symptoms to test! Click the link to schedule a CVS test:
https://www.cvs.com/minuteclinic/covid-19-testing?icid=cvs-home-hero1-banner2-coronavirus-testing
Option #3: Consult your doctor for other testing options. Flu Vaccine: The California Department of Public Health strongly recommends that all students and staff be immunized each autumn against influenza, to help: Protect the school community Reduce demands on health care facilities Decrease illnesses that cannot be readily distinguished from COVID19 and would therefore trigger extensive measures from the school and public health authorities. Click the link for information on free flu vaccines in San Bernardino County:
https://wp.sbcounty.gov/dph/flu/fluclinics/
If you have any other questions please contact your child's school.

Hello Tigers! As we shared last night, the district has set the dates for our scholars to return to campus. You will have the option to have your child(ren) return with hybrid learning or continue with distance learning. A flyer with hours and site-specific information is on our Topaz webpage. Please note transportation is ONLY for our Autism program. PLEASE COMPLETE THE ATTACHED REGISTRATION FORM. We want to honor your family's decision so your input is crucial. Details are on the form. Together We're Better!
https://forms.gle/5vLwBMqsfVz7CGtc9
¡Hola tigres! Como compartimos anoche, el distrito ha establecido las fechas para que nuestros estudiantes regresen al campus. Tendrá la opción de que su (s) hijo (s) regrese con el aprendizaje híbrido o continúe con el aprendizaje a distancia. En nuestra página web Topaz encontrará un folleto con información sobre horarios e información específica del sitio. Tenga en cuenta que el transporte es SOLO para nuestro programa de autismo. POR FAVOR, COMPLETE EL FORMULARIO DE REGISTRO ADJUNTO. Queremos honrar la decisión de su familia, por lo que su opinión es crucial. Los detalles están en el formulario. ¡Juntos somos mejores!
https://forms.gle/5vLwBMqsfVz7CGtc9

IT'S TIME FOR SOME FALL FUN! Join us Thurs., Oct. 29th for Drive Through Trunk or Treat at Topaz, 4:00-6:00! Wear a costume (& mask) for drive-thru fun! Remember to drop off candy donations to enter a drawing for a new Kindle Fire! See attached flyer or Topaz website for info on our Red Ribbon Week Festivities, too!
https://5il.co/mh2m
¡ES HORA DE DIVERTIRSE EL OTOÑO! ¡Únase a nosotros el jueves 29 de octubre para Trunk or Treat en Topaz, 4: 00-6: 00! ¡Use un disfraz (y una máscara) para divertirse en el auto! ¡Recuerde entregar las donaciones de dulces para participar en el sorteo de un nuevo Kindle Fire! ¡Vea el folleto adjunto o el sitio web de Topaz para obtener información sobre nuestras festividades de la Semana del Listón Rojo también!
https://5il.co/mh2m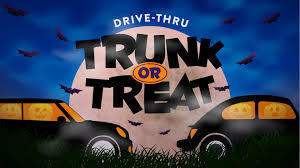 Dear Topaz Families! Please take a moment to read, and respond to, this parent questionnaire about our scholars returning to campus. Thank you for your ongoing support! Together We're Better! (Ver mensaje de texto para traducción al español)
https://forms.gle/wJxFV8tYn5bkKBvs8

Reminder- Kona Ice is at Topaz today from 11:00-1:00! Come pick up your lunch & grab a cool treat. See social media to place a pre-order.



Our Nutrition Services Department still needs your input on meal service. Please fill out the brief survey here:
https://bit.ly/3ko9WRk

Any new students wishing to enroll at Topaz Preparatory Academy may call the school at (760) 244-4622 and/or email registration staff at
TopazRegistration@hesperiausd.org

Postponed event for Topaz. Our Mother & Daughter Paint Night will be postponed until further notice.

Due to rain in the forecast the Hesperian Ninja Warrior Finals will be rescheduled to FRIDAY, APRIL 3 2020. Elementary will start at 8:00 AM, middle school at 10:15 AM, and high schools at 11:15 AM.

Hello HUSD parents and students. Here is the student calendar for the 2020-2021 school year (next school year). If you would like a hard copy of the calendar or have any other questions please contact the front office at your school.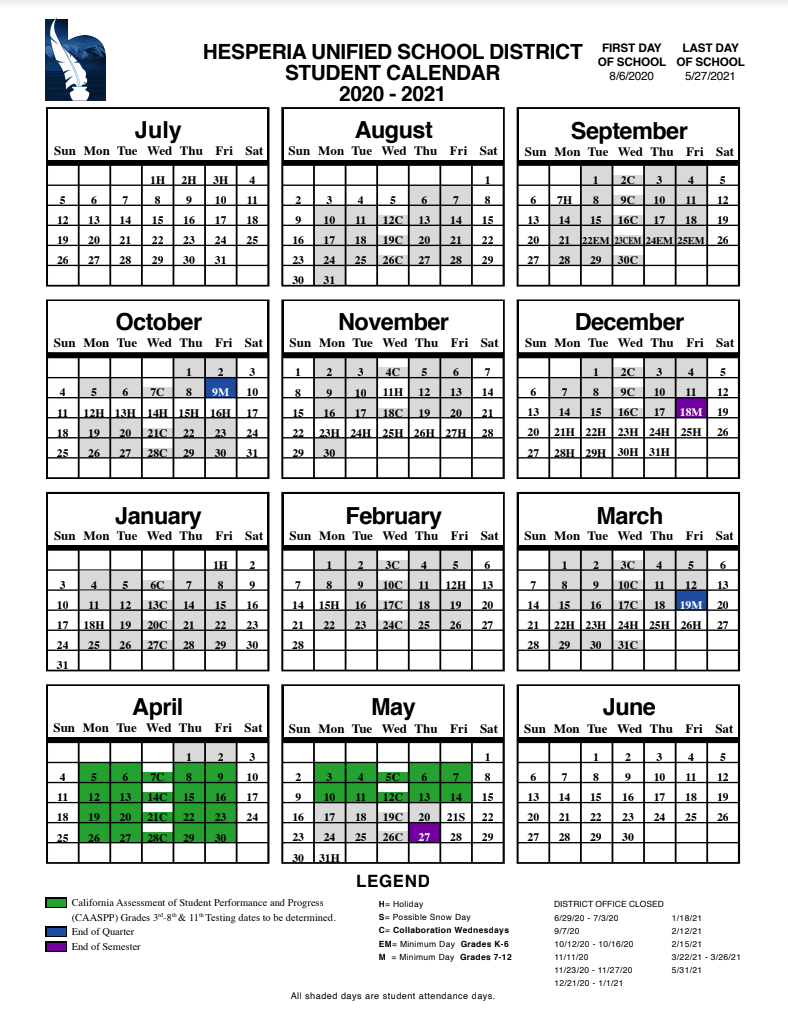 The Holiday Store will be taking up shop in the cafeteria starting on Monday, Dec. 9th through Friday, Dec. 13th. Our Topaz Tigers can shop for gifts for family and friends during their lunch time. Our PTC volunteers look forward to helping your Tigers shop until they drop! ;)

Hello Tigers! A friendly reminder & an important FYI: *No school Monday, 10/14. *Our Tiger Family Safety Challenge is next week. Please be safe & emergency ready! See the flyer we sent home & check out the video on our webpage for more info. Enjoy your 3-day weekend, Tigers! :o)

Reminder - it's Parent Conference week! Sept 24-27, Tues-Fri, school hours are 7:30-11:40. Early Kinder is 7:30-10:09 and Late Kinder/TK is 9:00-11:39. Please make sure your child is picked up promptly, as there is no after-school supervision (except for ASAP kids). Thank you!

Hello Topaz Tigers! A friendly reminder that tomorrow, 8/8/19, is Meet, Greet, & Eat at 2:30-3:30 at Topaz! Stop by to meet your new teacher. At 2:00, PTC will BBQ hot dogs, Kona Ice & Alex's Lemonade Stand for Childhood Cancer will be here too! See you tomorrow, Tigers! :o)

Hesperia Unified School District is pleased to announce that we will be using the Raptor Visitor Management System in all of our schools as part of our campus safety programs for students and faculty. All visitors, volunteers, and visiting staff will be asked to present a government-issued ID, such as a Driver's License, state ID, etc. The Raptor system only checks the visitor's name and date of birth for comparison with a national database of registered sex offenders. No other data from the ID is gathered or recorded. The system is not connected to any other database such as the Department of Motor Vehicles, and information is not shared with any outside agency. This implementation will help increase the efficiency in our offices, allowing District-approved volunteers to spend their valuable time in classrooms instead of in the front office. Thank you, in advance, for your support in enhancing safety in our schools. #IMPACTtheFutureHUSD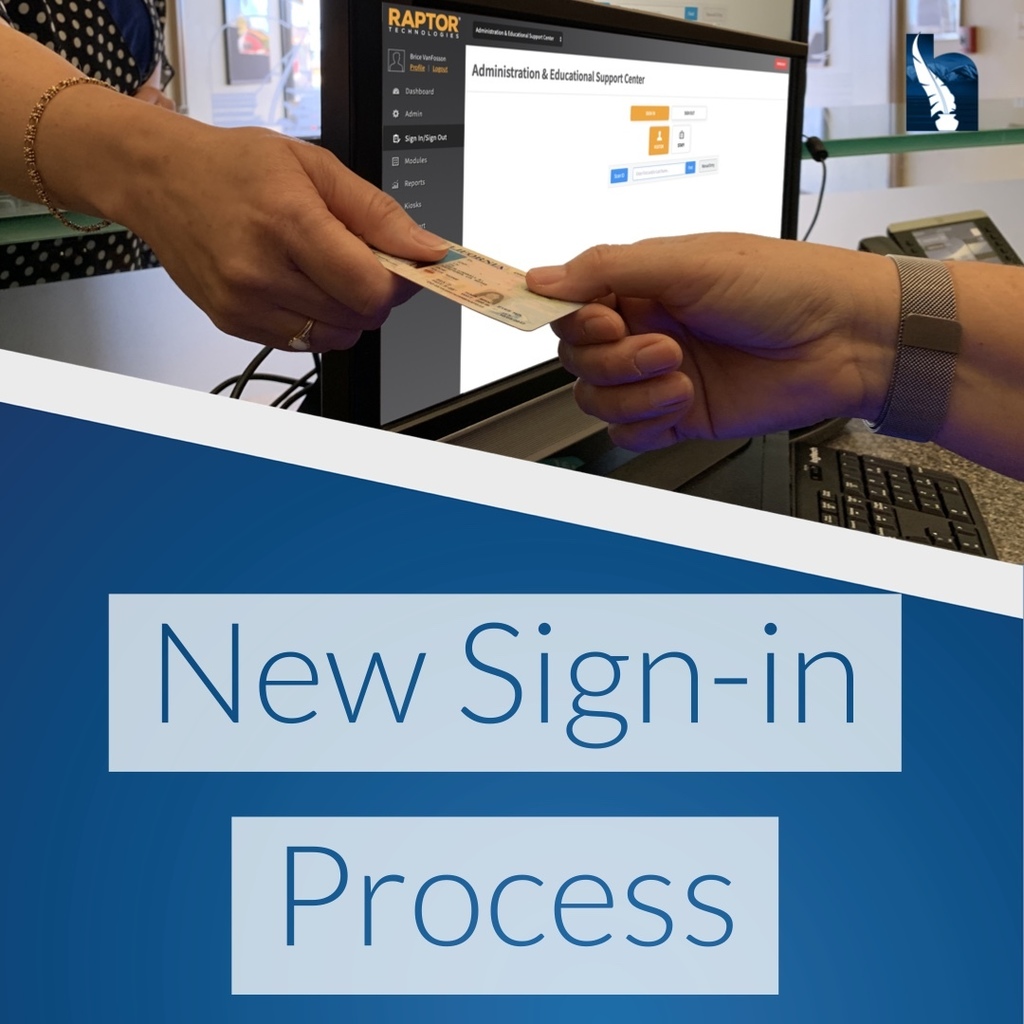 Just a friendly reminder... school is just around the corner! 🐯🤟🏼 #TopazTiger #TodayDecidesTomorrow #ImpactTheFutureHUSD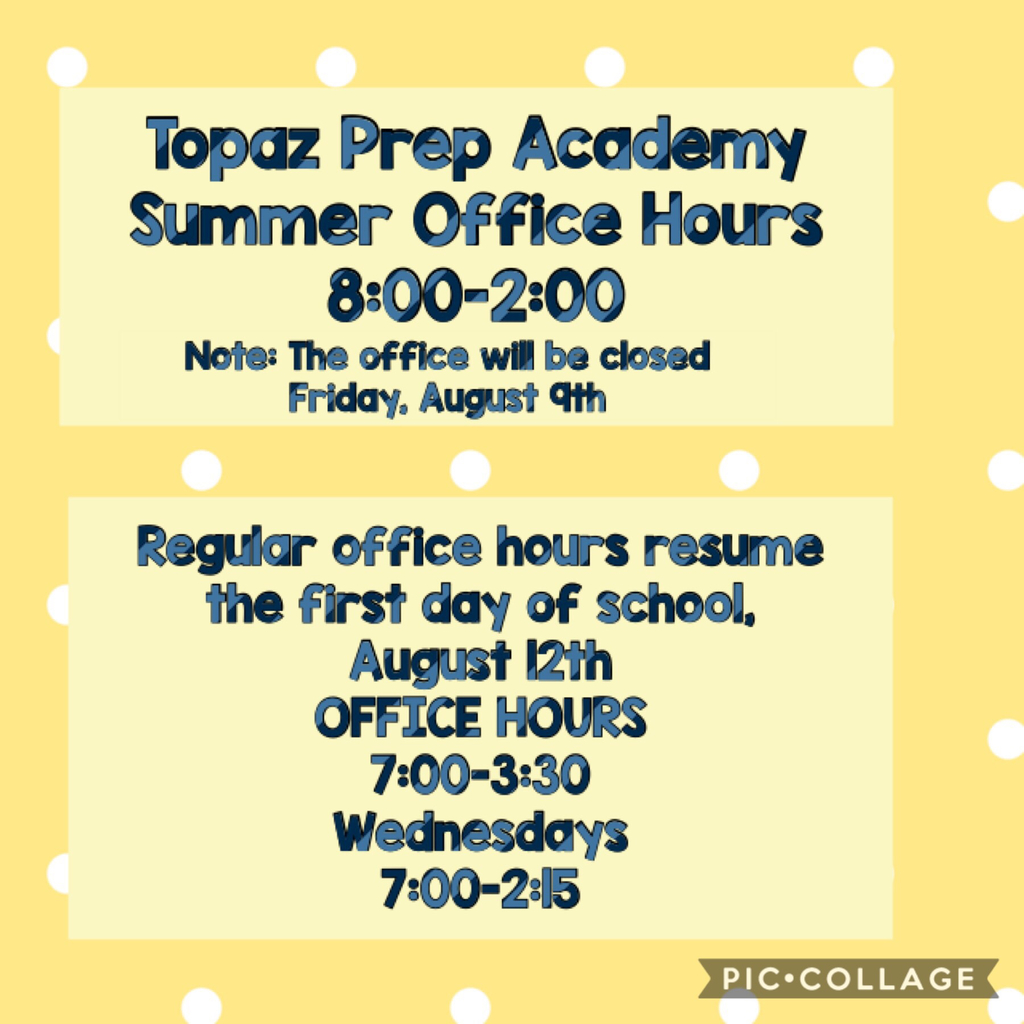 HUSD Nutrition Services is proud to provide FREE Summer meals for children ages 2-18 Monday through Thursday during June. Parents are encouraged to bring their own lunches while children take part in the activities. Check out next week's activities at Topaz Preparatory Academy! Earn a ticket each day for raffles later in the month! You must be in attendance during the raffle to win! Topaz Preparatory Academy's lunch is from 11am to 12pm. Menus are available on Topaz Prep's website and the HUSD app. #IMPACTtheSummerHUSD #ChooseKindness #IMPACTtheFutureHUSD